CONNEXT project experiments, how MSC method based on story-telling works as an assessment tool with migrants. As Vanessa, the new assessor of CONNEXT from Artevelde University College, describes there is still a lot to learn.
Since autumn 2019 I have been involved in CONNEXT. My interest was tickled from the start. My task in this project is to measure the impact of game-based learning by the methodology of Most Significant Change (MSC).
What is it all about?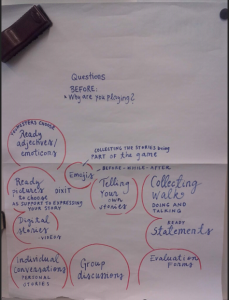 MSC is a method based on collecting stories. It's common for people to tell stories and to remember them. And it is a way of detecting unexpected changes.
There is a specific way, how MSC stories are collected and sorted out. To explain it very briefly , stories are collected from different actors that are involved in the project or program, for example participants, staff or frontline workers. Collecting the stories starts from the question 'What is the most significant change you experienced thanks to this project? And Why?'.
The collected stories are analyzed in steps. First workers choose the most significant stories from their groups. These stories are passed on to the decision makers, e.g. a project board of members, who choose the most significant stories in their view and discuss them with the assessor. This is the starting point for discussion on what the (un)intended impact of the program is. (Davis, & Dart, 2005)
In CONNEXT, using MSC should finally result in a manual inspiring professionals in using game-based learning method in working with migrants.
Sounds like a good idea, but…
Already during the first CONNEXT partner meeting in Ghent it became clear that there are some challenges to tackle. Some participants have too little language skills to write a story. Also too short or superficial experience of the theme assessed, in this case gamification, makes it very difficult to produce a story. Several encounters and long-lasting experiences makes assessment easier. It seems that some facilitation in carrying out MSC assessment with migrants is useful. However, collecting stories should be easy and not too time consuming for professionals either.
In the second partner meeting in Karlstad I had the opportunity to get to know partners and the challenges they meet in carrying out MSC. Very fast it became clear that we should use a light version of Most Significant Change and connect it with other tools. As the partners in the project work with different target groups on different topics we are confronted with different challenges such as lack of language skills (oral and writing), different ages and the workload of professionals. So we had to look for an approach that meets these challenges. 
During a partner meeting workshop the professionals brainstormed about techniques that could work for their target group to collect information on the most significant change. They came up with different proposals to inspire others. For example support for assessment could be gained from pictures, emojicons expressing emotions or a larger group, if the whole MSC discussions were carried out in a group.  
The learning process connected with MSC is to be continued. I am already very curious to read the stories.
Further reading:
Text: Vanessa Vanhooren, Artevelde University College of Applied Science
Illustration: Johanna Syren, Puntland Society of Finland